WELCOME HOME
Welcome to Victory Church, where it is our mission to know Christ and to make Him known!
Classes & Support Groups
Spiritual growth happens best when we are together, and we want to help you find the perfect class for you and your family. Many classes and support groups are happening Wednesdays at 6:30 PM, but there are also incredible options throughout the week, with many meeting on Sunday morning at Victory's North Campus.
Get more details and pre-register for any class at victorylakeland.org/classes.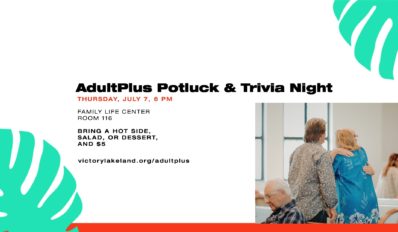 AdultPlus Potluck & Trivia Night
Thursday, July 7, 2022 6:00pm
AdultPlus invites those 60+ to the upcoming Potluck and Trivia Night, happening Thursday, July 7th, at 6 PM!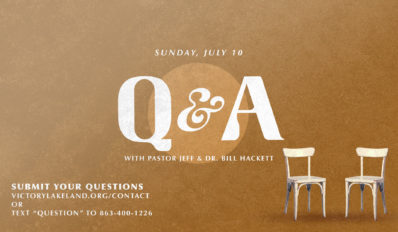 Q&A Service at the South Campus
Sunday, July 10, 2022 9:30am
Join us at the South Campus on Sunday, July 10, for a special Q&A service with Pastor Jeff and Dr. Bill Hackett!