Events at Victory Church
SOMETHING FOR EVERYONE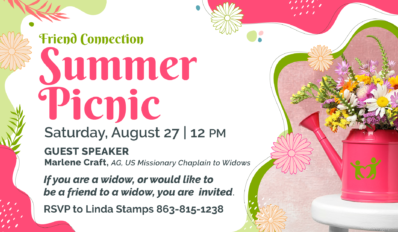 Widow's Ministry "Hat Luncheon"
Saturday, August 27, 2022 12:00pm
If you are a widow, or would like to be a friend to a widow, you are invited to join us on Saturday, August 27, at Victory's North Campus Family Life Center, room 116, for a fun Summer picnic!
---
Future Events
New People Party
For all who have started attending Victory in the last year, we would love it if you'd join us for a special lunch designed just for you and your family on Sunday, September 11, at 12:15 PM.
Date: Sunday, September 11, 2022 12:15pm Topic: All Church
Experience Conference 2022
If you are involved or interested in church ministry at any level, as a volunteer or as a career, you are not going to want to miss this year's EXPERIENCE CONFERENCE hosted by Victory Church on Friday and Saturday, September 16 & 17.
Date: Friday, September 16, 2022 12:00am - Saturday, September 17, 2022 11:59pm Topic: All Church